We can all feel stiff and sore in our joints from time to time but if you find it's happening more often, it's important to seek medical help.¹
Diagnosis
It's a good idea to be prepared before you see your doctor and to note down things like when you have the pain and how long it lasts – you could record this in a diary or your phone. Does the pain come on after a long walk, for example? Do you feel really sore first thing? And for how long? This information will be valuable to have to hand when you see a doctor.
There are four key questions your doctor will ask you:
Your age – your risk of osteoarthritis increases as you get older and most people who get it are over 45.²
When you get the pain – is it when you exercise or are generally active?²
If you get pain in the morning – usually with osteoarthritis symptoms, you'll either have no morning joint-related stiffness, or it will last no longer than 30 minutes.² If your joints are persistently stiff in the morning, it might be a sign that you have another type of joint condition called rheumatoid arthritis.³
Where you feel the pain. Osteoarthritis often affects the weight-bearing joints, such as the knees, hips, neck and lower back, and feet. Other commonly affected joints include the joints in the hands and wrist.⁴ You may have pain on just one side of your body, or both.⁴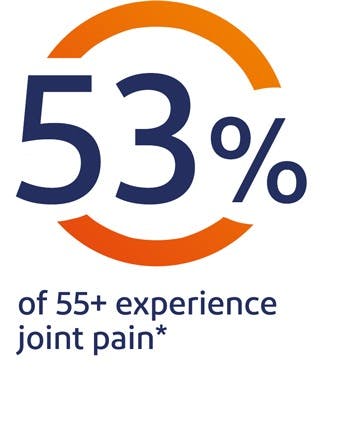 You can read more about the differences between osteoarthritis and rheumatoid arthritis
here
.
There isn't a single test for osteoarthritis, but your doctor should be able to diagnose you by asking these key questions about your symptoms and examining you.⁵
*GSK Global Pain Index Research 2014, report, p.40
Treatment

It's not inevitable that osteoarthritis will progress and you can treat it.² There are plenty of osteoarthritis treatments to aim to help you keep moving and live a full, and active life.⁶
First and foremost, take care of yourself. Osteoarthritis treatments are focused on improving:⁶
your lifestyle, so you can take back control and have a positive effect on your condition
the range of movement in your joints, so you can move freely
improving pain relief
Your lifestyle
It's important for us all to eat a healthy diet and to manage our weight, but even more so if you have osteoarthritis.⁷ By keeping to a healthy weight, you won't put so much stress on your joints, particularly your knees or hips.⁷ Losing weight, if you need to, should not only help to relieve your symptoms but also help to slow down cartilage loss in weight-bearing joints, such as your knees.⁷
Control pain
With the right help, you can manage pain from osteoarthritis so it won't hold you back.
The first line of pharmacological defence that experts recommend for osteoarthritis in the knee or hand is paracetamol and/or topical gels containing non-steroidal anti-inflammatory drugs (NSAIDs)² that you rub directly into your joint, where it's absorbed into your skin to help relieve pain, reduce inflammation to help speed up your recovery.⁹ ¹⁰ Since the medicines are targeted on the source of your pain, the amount of the drug in your blood is far lower with topical medicines compared with the same drug in tablet form.¹⁰ ¹¹
Voltarol Osteoarthritis Joint Pain Relief 1.16% Gel is a topical treatment for the relief of pain of non-serious arthritis.¹² ¹³ The active ingredient is a non-steroidal anti-inflammatory drug (NSAID) called diclofenac. Diclofenac works to inhibit prostaglandins synthesis (substances in the body that cause pain and inflammation).¹⁴ By reducing their amounts, diclofenac helps to relieve pain and reduce inflammation.¹⁰
Voltarol Osteoarthritis Joint Pain Relief 1.16% Gel targets your source of pain. When you apply it on your skin over the area of pain, it penetrates deep into your skin.¹⁰ When applied 3 to 4 times a day, your skin acts as a reservoir of diclofenac and releases the medicine in a gradual way into tissues to keep pain at bay.¹⁵ ¹⁶

Talk to your doctor or pharmacist if the pain doesn't start to improve within 7 days, or if the pain is very severe or gets worse over time.
So, there are many options open to you – both at home and in partnership with healthcare professionals – so that you don't need to let osteoarthritis limit the way you live your life.
References
¹ What are the symptoms of arthritis? . Arthritis Research Uk. https://www.arthritisresearchuk.org/arthritis-information/conditions/arthritis/symptoms.aspx, accessed May 2018
² Osteoarthritis: Care and management. Nice. https://www.nice.org.uk/guidance/cg177/resources/osteoarthritis-care-and-management-pdf-35109757272517, accessed May 2018
³ Rheumatoid arthritis clinical presentation. Medscape. https://emedicine.medscape.com/article/331715-clinical#showall, accessed May 2018
⁴ Osteoarthritis. Medscape. https://emedicine.medscape.com/article/330487-overview#showall, accessed May 2018
⁵ Osteoarthritis. Patient.Co.Uk Professional Reference. https://patient.info/doctor/osteoarthritis-pro, accessed May 2018
⁶ Osteoarthritis. Nice Clinical Knowledge Summaries. https://cks.nice.org.uk/osteoarthritis#!scenario, accessed May 2018
⁷ Osteoarthritis treatment & management. Medscape. https://emedicine.medscape.com/article/330487-treatment#showall, accessed May 2018
⁸ Healthy muscles matter. Nih. https://www.niams.nih.gov/health-topics/kids/healthy-muscles, accessed May 2018
⁹ Mcguire L Et Al. Pain and wound healing in surgical patients. Ann Behav Med 2006; 31:165–72.
¹⁰ Zacher J Et Al. Topical diclofenac and its role in pain and inflammation: An evidence-based review. Curr Med Res Opin 2008; 24(4)
¹¹ Derry S Et Al. Cochrane Database of Systematic Reviews 2016
¹² Niethard Fu Et Al. Efficacy of topical diclofenac diethylamine gel in osteoarthritis of the knee J Rheumatol 2005; 32:2384–92.
¹³ Zacher J Et Al. Topisches diclofenac emulgel versus orales ibuprofen in der therapie der aktivierten arthrose der fingergelenke (heberden- und/oder bouchard-arthrose) doppelblinde, kontrollierte, randomisierte studie Akt Rheumatol 2001; 26:7–14.
¹⁴ Gan Tj. Diclofenac: An update on its mechanism of action and safety profile. Medical Research & Opinion 2010; 26:1715–31.
¹⁵ Dreiser Rl. Topical antirheumatic drug therapy: Current practice and future trends. Eur J Rheumatol Inflamm 1994; 14(4):3–8.
¹⁶ EA Sioufi A. Percutaneous absorption of diclofenac in healthy volunteers after single and repeated topical application of diclofenac emulgel. Biopharm Drug Dispos 1994; 15:441–9.