Wondering how to relieve joint pain? Joint pain treatment is likely at the top of your list of important things to read up on if you suffer from joint pain. We use our joints every day, all day. That's why joint pain can feel so present in our lives. But don't let that stop you from doing the things that make you - you. Learn about the available joint pain treatments so that you can put together a plan to start feeling... a little more like yourself again and get back to the movement you love.
Joint pain is extremely common, and can be experienced in just about any joint in the body. Voltarol found that whilst 95% of people globally suffer from body pain at some point in their lives, in the over 55's joint pain and osteoarthritis afflicts a higher proportion of the global population than muscular pain – that's a lot of people with joint pain! 30% of people globally suffer from weekly back pain, and 25% of people suffer from weekly neck pain, and it can also affect the knees, hips, elbows, feet, and hands. It can range from mild to debilitating and can be chronic or acute.
There are a number of reasons you may be experiencing joint pain, including types of arthritis like osteoarthritis, rheumatoid arthritis, gout; bursitis, tendonitis (e.g. tennis elbow), hand-shoulder syndrome; or even common bruises strains and sprains that occur in day to day life or sports injuries! Although, our Voltarol over-the-counter products aren't indicated for all of these causes of joint pain, we've outlined many different remedies and treatments for joint pain relief that with your health care professional, can help get you on track to regaining your joy of movement. Always read the label to check if your joint pain cause is covered by our Voltarol products!
Read More
It is important to understand what is causing your joint pain before you self-treat. If you are experiencing joint pain and you don't know why, see your doctor.
In the below cases it is recommended that you visit a doctor, who may recommend light exercise or order one or more tests - such as an X-ray or blood test - to help determine the source of your pain and the most appropriate treatment:
Your joint pain is accompanied by swelling, redness, tenderness and warmth around the joint

Your joint pain lasts for more than 7 days with no signs of getting better

Your joint is completely locked and immobile

Your joint pain is accompanied by fever, but not other signs of the flu

Your joint appears deformed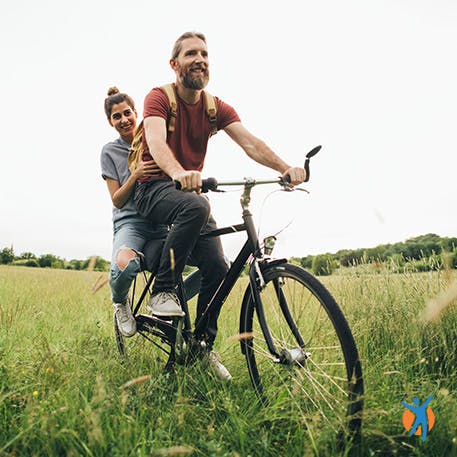 Home remedies for joint pain
Once you have ruled out the need for immediate medical attention, you may want to consider a number of home remedies for joint pain treatment. Home remedies can be straightforward easy (we love easy!) and effective (we love effective, too!) ways to get joint pain relief so that you can get going again.
For short-term relief of joint pain, try out an at-home method like RICE.
RICE stands for:
Rest the joint - Resting the joint will give it time to repair on its own. Continued usage can aggravate the joint, making recovery longer.

Ice the joint - Applying ice to the joint can reduce inflammation. Just be sure to wrap your ice pack in a towel before applying it. Placing a bare ice pack directly to your skin is not advisable.

Compress the joint - Compress the joint using an elastic wrap.

Elevate the joint - Elevate the joint above the level of your heart.
If you experience joint pain, your natural instinct may be to keep still and stop moving – especially when it hurts to do so. However, keeping moving can be key for promoting joint mobility and function and treating your pain can help with this. The NHS recommends 150 minutes of weekly exercise as the sweet spot for maintaining joint health in some conditions. Added bonus: moving more can boost your mood, always a plus! So lace up your trainers and head out for a walk.
A key tip for how to relieve joint pain is diet. Maintaining a healthy weight is really important to reduce stress on your joints – especially weight bearing joints, like your knees. There is also debate around whether certain foods, herbs or spices may help reduce inflammation throughout your body. Reducing inflammation is certainly key for getting some joint pain relief. There is some research that suggests that foods rich in omega-3 fatty acids (such as virgin olive oil, walnuts, flaxseed, oily fish, or turmeric) play a role in reducing inflammation. A good summary of the diet and arthritis debate which might be relevant if your joint pain is caused by osteoarthritis, is here from Arthritis Research UK.
Medication taken orally
Anti-inflammatory medications taken orally in tablet or capsule form, can be effective pain relievers.
Medicated plasters
Medicated plasters are single-use plasters that contain an active ingredient that releases over time when applied directly to the skin. The Voltarol 140mg Medicated Plaster provides 2x more powerful pain relief*
*vs. non-medicated placebo patch
If your joint pain is severe or persistent, you should seek advice from your doctor who will examine your injury and may offer you tests to confirm the cause and prescribe other treatments.

Voltarol gels for joint pain relief
You can use Voltarol for your aching joints, so you can get back to doing the things you love. Voltarol pain relief gels are designed to help beat pain by acting with a triple effect on your pain by:
Relieving pain

Reducing inflammation

Helping speed recovery.
We have two different strength gels... for joint pain treatment, to suit your needs.
Voltarol Back & Muscle Pain Relief 1.16% Gel

Voltarol Joint & Back Pain Relief 2.32% Gel
Need a little more? Need a little less? We've got you. Both our Voltarol Back & Muscle Pain Relief 1.16% Gel and Voltarol Joint & Back Pain Relief 2.32% Gel come in different pack sizes for your convenience.
Read More
How does Voltarol gel work to relieve joint pain?
Voltarol gels work by delivering diclofenac, a potent non-steroidal anti-inflammatory drug (NSAID), right to the root of your pain. Unlike non-medicated cooling gels and heat patches that work only by physical action (cooling or heating the skin), diclofenac works by relieving pain and reducing inflammation at their source.
After applying Voltarol Pain Relief gel, the Emulgel technology included in all the gels aides the clinically proven NSAID (diclofenac) to permeate the skin... and penetrate directly to the area affected by inflammation, as effectively as pills. The diclofenac is then retained at the source of pain and helps block the production of some of your body's neurotransmitters that cause the feeling of pain, tenderness and swelling.
Read More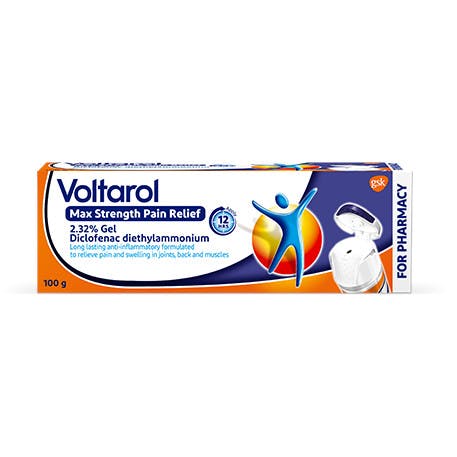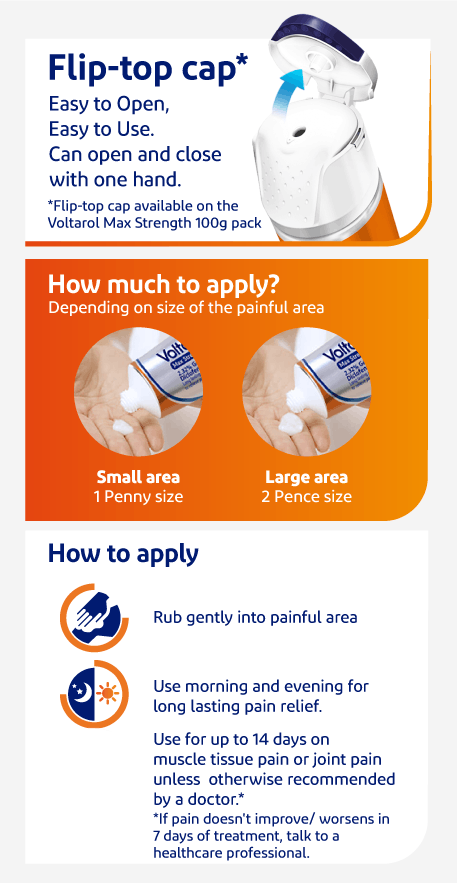 How to use Voltarol gel to relieve joint pain
We believe joint pain relief shouldn't be a pain, follow these simple steps to relieve joint pain with Voltarol Max Strength Gel:
Open your tube of Voltarol gel

Squeeze out an amount ranging in size from a 1 penny to 2 pence piece depending on the size of the affected area.




Gently rub into the skin over the area where you are experiencing body pain.

Apply morning and evening. Do not exceed recommended dosage.

Start to regain your joy of movement.
Use up to 14 days for soft tissue injuries, like sprains or strains, or soft-tissue rheumatism, unless indicated otherwise by your doctor. As soon as your pain subsides, stop using Voltarol. If your pain and swelling do not improve within 7 days, or if they get worse, please consult your doctor.
Voltarol should only be applied to intact, non-diseased skin, and not to skin wounds or open injuries. It should not be allowed to come into contact with the eyes or mucous membranes and should not be ingested. Discontinue the treatment if a skin rash develops after applying the product.
How much Voltarol gel to apply to relieve joint pain
Voltarol gels deliver diclofenac, a highly effective anti-inflammatory, directly to the source of your pain. That's why a little bit goes a long way. Apply between a 1 penny to a 2 pence size amount, depending on the size of your affected area.
Other options for joint pain relief
Once you have explored your medication and home remedies for joint pain, you may want to explore additional joint pain treatment options. If you are still in pain after 7 days you should seek medical advice.
Physiotherapy
Physiotherapy can help increase your range of motion by strengthening, loosening and warming up the muscles surrounding your affected joints. A physiotherapist will work together with you to tailor a series of stretching and strengthening exercises just for you.
Surgery
Surgery is considered a last resort for people with joint pain. If you are not responding to treatment and have exhausted your options for medication and home remedies, when you consult with your doctor they may want to explore surgery as an option.
Surgery for joint pain usually involves cutting and reshaping the affected joint to improve functioning. In severe cases, it can involve replacing the joint altogether.
We know how important it is to find an appropriate joint pain treatment that works for you. It's not just relief for sore, achy, stiff joints – it's enjoying movement and feeling free to focus on what's important throughout your day. It's feeling like yourself again.
Explore the Voltarol product range

Health, wellness & your pain
Pain is rarely just physical nor is it always solved by taking medicine alone. Voltarol is your ally in helping you take more control of your pain journey, from the way to sleep, to what you eat, mental wellbeing and complementary pain relief therapies.